Hospitality Remodeling 101:
Hiring a Hotel Renovation Contractor who Understands the Meaning of Hospitality
Are you considering to hire a remodeling contractor to renovate your hotel or resort property? When hiring a contractor you need to understand that not all construction companies  cut from the same cloth. You need to find one that truly understands the industry of hospitality remodeling. By definition hospitality means to give the quality or disposition of receptiveness and treating strangers and guests in a generous, warm and friendly way.
Today we look at hospitality as entertainment and etiquette. Hospitality is often associated with the hotel industry. Once this was a friendly gesture, the way of protecting and sheltering a stranger and taking them in to offer shelter, food and warmth. Hotels still focus on the origin in a matter associated with how they treat their hotel guests, as they give their guests to make them feel comfortable in their "home away from home" and give them service of comfort, warmth and friendliness.  Maintaining the guests experience is vital during remodeling jobs, so communication and strategic planning is  prevalent during the renovation process. As a hospitality renovation contractor, you need to focus on the hotel as a whole, providing a safe and clean environment and working out a coordinated plan to ensure the renovation can take place with minimum disturbance to the guests of your hot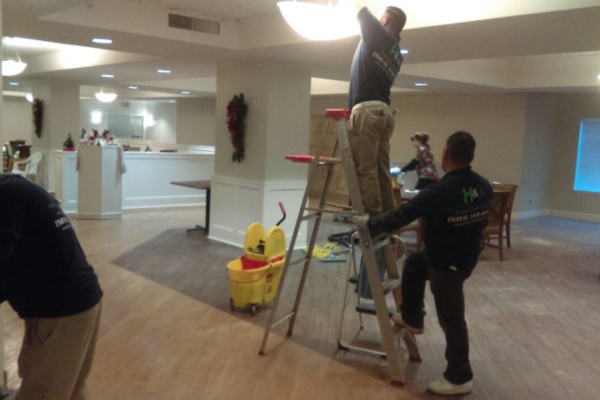 el. The best time to do this renovation project is through the slowest season of the projected year. In most renovation projects, if you are hiring a company with the experience and knowledge to plan out their project correctly this can be achieved.
Let's take a  look at a hotel restoration company that has years of hospitality remodeling experience: Smooth Systems Construction provides safe work spaces and coordinates his projects to run smoothly while hotels stay open throughout the project. The owner Curt Jarmer commented on the process, "maintaining a clean work area and planning out the hotel renovation project in a matter that involves keeping your hotel staff and guests safety are a priority throughout the process." All debris from demolition and construction removed throughout the project quickly and effectively. Smooth Systems Construction Inc. has maintained a solid reputation for providing meticulously clean and safe work sites.
Smooth Systems Construction implements values that anyone can admire: Professionalism, organization and  communication with the hotel and contractors is extremely important. To ensure hospitality renovation is followed through in a smooth and timely matter that does not disrupt daily revenue, while allowing you to stay operable throughout  the process.
Your project is sure to run smooth when choosing to hiring a contractor with earlier  industry experience. Those few contractors who truly understanding the meaning of hospitality and the nature of the renovations within the hospitality industry, successful projects can take place insuring a smooth project from start to finish.
Contact Smooth Systems Construction for all of your hotel restoration and commercial remodeling needs.
[contact-form-7 404 "Not Found"]